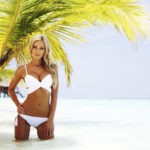 If having an enviable beach body in time for summer is one of your New Year's resolutions, Dr. Ashkan Ghavami encourages you to consider your plastic surgery options. The top Beverly Hills plastic surgeon has helped hundreds of patients re-sculpt their bodies so they look and feel their best in their swimsuits. And because most plastic surgery procedures require a recovery period, the time to schedule your treatment is now.
Here, Beverly Hills plastic surgeon Dr. Ashkan Ghavami reveals the top plastic surgery requests for a summer body.
Breast Enhancement
If you're having trouble filling out your favorite bikini top due to naturally small or deflated breasts, breast augmentation can help. Dr. Ghavami can create more volume and cleavage with breast implants (either saline or silicone gel implants). When creating your ideal breast size, Dr. Ghavami will take into consideration your body proportions to create the most ideal and harmonious figure.
Butt Augmentation
If filling in your bikini bottom is your concern, butt augmentation may be the solution. Dr. Ghavami is the plastic surgeon of choice in Beverly Hills for women who desire to transform their buttocks from flat or shapeless to curvaceous and flattering. With his patented S-Curve Buttock Lift ®, Dr. Ghavami re-sculpts the buttocks so as to complement the entire body, creating the ultimate hourglass figure. During the procedure, Dr. Ghavami removes unwanted fat from one body area (e.g., stomach, thighs) and reinjects it into the buttocks to create a body shape that is both curvaceous and proportional.
Liposuction
Liposuction is the perfect solution for stubborn fat bulges that are resistant to even the strictest diets and exercise regimens. The fat removal procedure can be used on almost any part of the body including the upper arms, thighs, abdomen, waist, hips, knees, back, buttocks and neck.
Lip Augmentation
If you are self-conscious about thin or aged lips, Dr. Ghavami can help you put your best face forward this summer with a fuller and vivacious pout. He can use one or a combination of dermal fillers (including Juvederm and Restylane) to sculpt your lips so they look fuller yet natural-looking.
Skin Care
When sculpting your summer body, it is important to not neglect your skin. Dr. Ghavami offers a wide range of non-surgical treatments to help your skin look radiant and glowing year round. Among his most popular treatments is the Hydrafacial, an innovative multi-step treatment that combines cleansing, exfoliating and hydrating properties to repair and protect skin. The result is younger and smoother-looking skin.
To discuss your summer body goals with a top Beverly Hills plastic surgeon, contact Ghavami Plastic Surgery today. Schedule a consultation by calling (310) 275-1959 today.