BRAZILIAN BUTT LIFT

Beverly Hills & Los Angeles
Brazilian butt lift (BBL, for short) has become one of the most sought-after plastic surgery procedures in the nation, and it is crucial that you learn the facts and do your own research to find the right board-certified plastic surgeon who has extensive real experience. The BBL is a comprehensive procedure that combines standard liposuction with the transfer of the patient's own fat from other parts of the body to the buttocks. It is imperative to perform these operations simultaneously, because once the liposuction has been performed, the patient may no longer have enough excess fat to lend to the Brazilian butt lift process. Dr. Ashkan Ghavami recommends this approach, because the use of the patient's own fat leads to a more soft, natural-looking and -feeling result. Dr. Ghavami has been invited by his peers to lecture around the world on his approach to the BBL. He has also appeared on numerous TV shows for his amazing results, such as "The Doctors," "Ricki Lake," and "Extra," to name a few. Dr. Ghavami always says, "I can turn a SpongeBob body into a Beyoncé, Kim Kardashian or Marilyn Monroe silhouette in the right patient!" The BBL is that powerful!
Because the added fat tissue is not foreign, there is virtually no chance of rejection.
Brazilian Butt Lift Combination Procedures
Along with the Brazilian butt lift in Beverly Hills & Los Angeles, Dr. Ghavami offers the option to incorporate the Brazilian butt lift into a more comprehensive approach that addresses the entire body. By combining a Brazilian butt lift with a tummy tuck and breast augmentation, Dr. Ghavami and his team of experienced specialists can make your whole silhouette appear dramatically more curvaceous with an amazing hourglass shape. Shaping the whole body is what it is all about. The focus is on the buttock, but the whole body undergoes a transformation since so much fat is being taken from all over!!
***Dramatic results with more than 800 cc injected into each buttock cheek.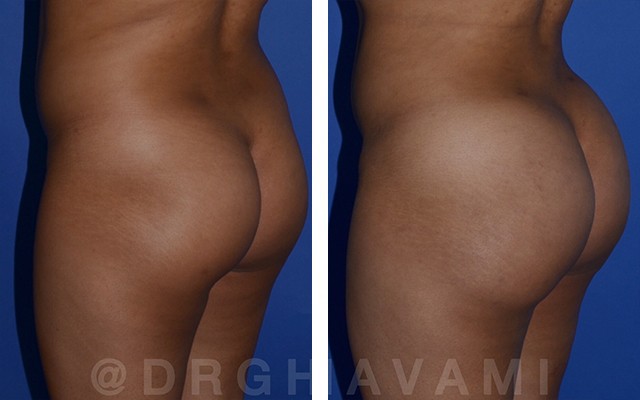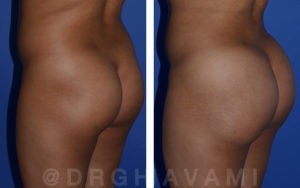 2nd stage butt lift. First tummy tuck and Brazilian Butt Lift, (S-Curve®) and 6 months later more fat added in a mini Brazilian Butt Lift. Results shown after both procedures complete and healed. Please note new tattoos. Common with increased confidence etc.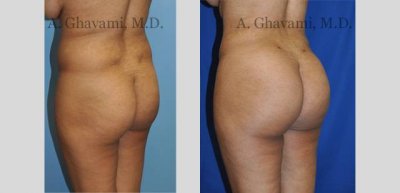 This transformation can include liposuction of the back of the neck and arms and knees when necessary in addition to more standard areas such as the stomach, thighs and love handles (flanks or "muffin tops").
Dr. Ghavami's expertise in the Brazilian butt lift is vast and he has been performing this procedure on a routine basis for nearly a decade. While many surgeons did not seem to agree with the benefits of this procedure, now many are rushing to learn and offer it.
Dr. Ghavami's approach has led to the name, "S-Curve Buttock Lift®" as opposed to the Brazilian Butt Lift because it is really about creating "S-Curve®s" throughout the body, from the waist to the small of the back.
Here are some important facts you need to know while doing your research and searching for the right surgeon.
How to Choose Your BBL Surgeon
Your surgeon should at the very least be board certified by the American Board of Plastic Surgery. This is like a car having wheels and an engine. It is the basic starting point.
Membership in exclusive societies such as ASAPS (American Society for Aesthetic Plastic Surgery) is an even further qualification that indicates your surgeon's practice focuses on cosmetic plastic surgery, and he is board certified by the correct board and is deemed worthy of holding high recognition.
Your surgeon should have extensive experience in liposuction and the art and science of fat transfer. This is a relatively new field and some surgeons are just starting to dabble, while others have vast knowledge and experience in fat transfer to the buttock. Dr. Ghavami is a recognized leader in fat transfer to the buttock and his experience has allowed him to be invited to lecture at numerous national and international meetings.
Always be careful and wary of a surgeon who bad-mouths another surgeon. This is a known tactic of less experienced, unethical and usually less-successful surgeons and their staff. This is the lowest of the low and if this is how a surgeon is going to try to gain your trust, we recommend you look elsewhere. Use your own research and go with your gut.
BRAZILIAN BUTT LIFT FACTS
Ideal candidates have fat deposits in the wrong places (such as love handles, stomach, arms), have buttock skin that is not too loose or too tight, have good bone structure (hip bones flare out and ribs come in at the waist), and comply with the post-op regimen Dr. Ghavami recommends.
The amount of fat that can be injected into each buttock cheek is not guaranteed, but a rough estimate of the amount can be given by Dr. Ghavami. It all depends on how much fat is able to be taken out. We cannot use anyone else's fat cells. So we are limited in the amount available for removal.
Conservative fat removal is not recommended. Dr. Ghavami takes out as much fat as possible (without causing deformities or excessively loose skin) so that there is plenty to shape the buttock with. In general 30 to 35 percent of the volume of fat removed is usable for fat transfer to the buttock. So if 3000 cc is removed, 1000 cc (roughly) can be used, which means about 500 cc for each cheek. This varies from person to person.
Injecting too much in the buttock will produce poor results. The compression from high pressure will literally make the fat shoot out of the tiny incisions during the surgery. This high-pressure situation will kill off more fat rather than help your results.
Post-operative exercise "do's and don'ts," as well as an eating regimen, will be customized for each patient. The last thing you want to do is diet after this procedure. Your body has to be in a fat storing/preserving state, not a fat burning state.
You may need to gain weight before the surgery. Do NOT worry, whatever you gain can be liposuctioned so you will not be overweight when all is done. Great, isn't it?
The Brazilian butt lift can be combined with other surgery, but Dr. Ghavami will decide if this is right for you. Sometimes it is best to do the BBL by itself.
In general, in most people, and in the proper settings, you should retain about 60 to 75 percent of the fat cells injected, long-term. In other words, this is what will live. This is NOT 60 to 75 percent of your initial swollen buttocks right after surgery. That is swollen which means a lot of that size and hardness is from water weight, just like when your ankles swell. Rather, this is the percent survivable from the volume of fat injected during the time of surgery.
The procedure can be repeated a second or third time. Dr. Ghavami does this in about 10 percent of patients who gain weight (i.e., get pregnant) or who lose too much weight (e.g., get sick, don't eat or work out properly). In addition, some patients, just as with breast augmentation, prefer to be even bigger once the swelling comes down. This is possible if there are enough remaining fat cells to gain weight and inject again. Patients need to consult closely with Dr. Ghavami to make sure their goals and expected results are realistic.
If you have loose skin (i.e., you lost a significant amount of weight or had children) pre-operatively, Dr. Ghavami may advise a tummy tuck, thigh lift or another procedure for the best outcome. Every situation is different. Please watch Dr. Ghavami's videos and TV appearances, and browse his before and after gallery to get more information!!
THANK YOU and good luck. This is a life-changing surgery!!! We have seen people's lives transformed.
To learn more about what Ghavami Plastic Surgery can offer, you should contact Dr. Ghavami's offices directly. Dr. Ghavami has also written extensively on the Brazilian butt lift and other plastic surgery procedures, and his work has been published in many prestigious books and journals.