RHINOPLASTY (NOSE SURGERY)

Beverly Hills & Los Angeles
You want a Nose Job that will keep them guessing®️
If you're thinking of getting rhinoplasty in Beverly Hills, you're in the right place. Celebrity plastic surgeon Dr. Ashkan Ghavami has helped countless celebrities get the nose they've always dreamed of.
Your nose plays an important role in the overall attractiveness and "personality" or character of your face. Also, it usually reflects your ethnic heritage, linking you to your family's roots and ancestry. However, few people are born with a perfectly shaped nose that is optimally balanced with the rest of their facial features. And, if you are very unhappy with the way your nose fits on your face, a lack of confidence can permeate throughout your entire life. You might feel withdrawn, anxious or even depressed because of your nose. This is not uncommon. Rhinoplasty is perhaps one of the most challenging and most sensitive surgeries we perform. In fact, it may be the most exacting and personally satisfying procedure that exists in all of plastic surgery.
You can gain confidence and have natural customized results to where some of your family may not even notice at first. They will know you look great but not know why! This is the hallmark of a well-executed natural approach to nasal shaping. Rhinoplasty is designed to enhance your nose's shape and size, improving your entire facial appearance. It is often a life-changing operation, giving patients greater self-confidence and an overall better quality of life. It does not need to alter your beautiful ethnic heritage and does not need to look awkward or "done." We are part of a new era where true rhinoplasty experts like Dr. Ghavami are setting the way to effectively help you in your "nose-journey."
WHAT CAN RHINOPLASTY DO FOR ME?
Improve the appearance of your nose
Create gorgeous and natural-looking harmony and balance among the facial features
Treat a birth defect, broken nose or result of trauma
Correct problems that affect breathing function (e.g., deviated septum)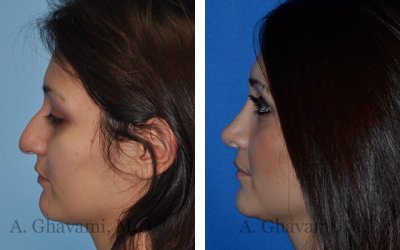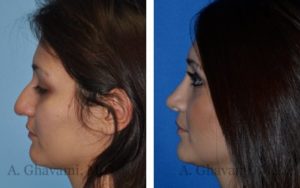 As you can imagine, rhinoplasty is a complex and challenging operation that should be left to the most qualified surgeons. Anytime the central feature of the face is modified, it will affect the rest of the face. Excellent technique and a detail-oriented approach is crucial to avoid under- or over-correction. This is a surgery of millimeters and fewer and fewer surgeons are even attempting to specialize in this surgery. Hundreds of cases should be performed per year by your surgeon to mark their experience with the various types of noses. All noses are so different from each other that it is mandatory to go to a surgeon who can deal with whatever walks through the door.
The key to achieving successful results is to select the right plastic surgeon. Individuals from all over the country (and beyond) seek Dr. Ashkan Ghavami's rhinoplasty expertise. He is known for excellent technique and patient-centered care. Thousands of men and women have a more attractive nose and greater self-confidence, thanks to Dr. Ghavami. His techniques and concepts have been published in numerous textbooks and peer-reviewed articles. He is a highly sought out national and international speaker and lectures about his expert approaches and innovative thinking.
WHY PATIENTS TRUST DR. GHAVAMI WITH RHINOPLASTY
Dr. Ghavami is a talented surgeon and a compassionate physician that has received acclaim from patients, fellow surgeons and the media. He is highly respected for his experience and rhinoplasty techniques. While Dr. Ghavami performs a range of plastic surgery procedures at his Beverly Hills practice, he has a special passion for rhinoplasty.
Dr. Ghavami learned from renowned rhinoplasty experts during his plastic surgery training at the University of Texas Southwestern Medical Center at Dallas. UTSW has a global reputation for training rhinoplasty surgeons; in fact, it has hosted the Annual Dallas Rhinoplasty Symposium for over 30 years. Dr. Ghavami has had the honor of serving as a member of the conference's teaching faculty for nearly a decade, sharing what he has learned with other physicians both in the annual Dallas Conference as well as around the world.
Dr. Ghavami is also on the executive board of the exclusive Rhinoplasty Society, which is an elite organization dedicated to advancing the education, art and science of this highly coveted subspecialty in plastic surgery. He has served as faculty for the American Society for Aesthetic Plastic Surgery (ASAPS) and lectured around the world for the International Society of Aesthetic Plastic Surgery (ISAPS) and the Pan-Pacific Surgical Association (Hawaii Plastic Surgery Symposium), which he has co-chaired. He also currently serves as the Co-Chairman of the Rhinoplasty Symposium at the annual ASAPS meeting.
Dr. Ghavami is a widely published author of textbook chapters and articles on rhinoplasty. He has made numerous appearances on nationally broadcast television programs to discuss his advanced cosmetic surgery techniques.
DR. GHAVAMI'S RHINOPLASTY PHILOSOPHY
Dr. Ghavami honors the diversity and individuality of his patients. He designs surgical plans that take into account the unique needs and goals of every patient. The "cookie cutter" approach is never used and shortcuts are never taken. As you browse our rhinoplasty photo gallery, you will notice that it features noses that look very different from one another; this reflects the variety and uniqueness of each nose and the work that has been performed. Each person's anatomy is completely different. The way the skin, bones, and cartilage interact creates a challenge like a unique musical composition. If these structures are dealt with properly, the results can come together like a beautiful symphony.
While a few patients will want a "designer nose job," Dr. Ghavami believes that no one should be able to tell that his patients have had a nose job. He strives to create natural-looking results possible that fit each patient's personality and unique goals. This requires the use of meticulous techniques that he has refined over the course of his many years in practice and which he has lectured on for nearly a decade.
As you explore our rhinoplasty photo gallery, we challenge you to cover up the "before" photo and look only at the "after" photo. If you look at the photos this way, you should not be able to tell that the person in the "after" photo has had any cosmetic work done.
Types of Rhinoplasty Available
Dr. Ghavami performs primary and revision (secondary) rhinoplasty. Demand for the latter procedure continues to grow as more patients have poorly performed primary rhinoplasty surgery (by inexperienced surgeons) that compromises the strength, shape, beauty and breathing function of the nose. Revision rhinoplasty or "secondary rhinoplasty" is, in many ways, similar to a reconstructive operation, especially if the nose has been depleted of the majority of its natural cartilage and support. In these cases, Dr. Ghavami can use grafts from the septum (or sometimes the ear and even rib cartilage) to carefully build up the nose. He can correct nasal collapse and breathing issues at the same time. Nearly half of Dr. Ghavami's nose practice is revision work of noses that have been less than optimally operated on. Many come from around the world and utilize his concierge team to make their travels and time in Los Angeles most comfortable and easy.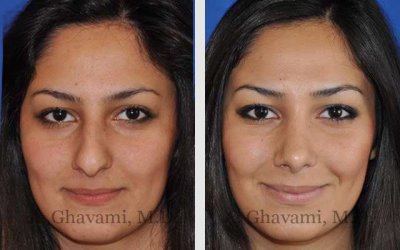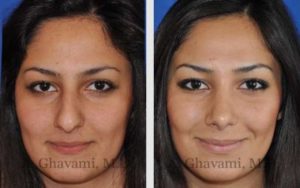 "Ethnic rhinoplasty" — another specific area of interest to the doctor — includes Hispanic nose surgery, African American rhinoplasty, Middle Eastern rhinoplasty and Asian rhinoplasty. Dr. Ghavami is well versed in the physical nuances of each ethnicity and how they usually affect the shape and size of the nose. He knows how to enhance these qualities for a more beautiful and flattering nose. His goal is always to preserve his patient's unique ethnic qualities while making improvements that can be dramatic and seamless and natural at the same time (he never wants to completely erase the physical characteristics of a patient's ethnicity).
AM I A CANDIDATE FOR RHINOPLASTY?
Most people seeking rhinoplasty want to achieve one of the following:
Bring the nose into balance with the rest of the face
Correct a crooked nose
Improve your smile (better selfies)
Improve the profile of the nose, removing bumps or depressions
Build up a flat wide nasal bridge
Tweak a nasal tip that is oversized, drooping, upturned or bulbous
Fix oversized, flaring, or asymmetrical nostrils
Change the angle between the nose and the upper lip
Dr. Ghavami evaluates all potential candidates during a consultation at his practice. Suitable candidates are generally individuals who at least 15 years old and whose nose has stopped growing. Candidates should be in good physical and psychological health and not smoke. They should demonstrate that they are seeking rhinoplasty of their own volition (not to satisfy anyone else), and that they have reasonable goals and expectations of surgery.
RHINOPLASTY SURGERY DETAILS
Dr. Ghavami uses one of two rhinoplasty techniques. Closed rhinoplasty is performed through incisions made within the nostrils. Open rhinoplasty requires an additional incision made across the strip of skin separating the nostrils (called the columella). Through the incisions, Dr. Ghavami gently separates and lifts the skin "envelope" from the underlying nasal tissue and structures for a detailed, three-dimensional view. We believe that open rhinoplasty is often required to truly deliver an exacting approach and to minimize revisions. Open rhinoplasty is like opening the hood of a complicated engine like that of a Lamborghini in order to fix it, while a "closed" (or what some unfortunately call "scar-less") rhinoplasty is like trying to expertly fix that engine with the hood down and working through the grill using a flashlight.
Dr. Ghavami follows the pre-determined treatment plan, which may involve adding, removing or otherwise modifying the tissue, cartilage and bone to the desired shape. If he needs to, Dr. Ghavami can take cartilage from the septum, ear, or ribs and add it to the nose (this is common in revision or ethnic rhinoplasty cases). Dr. Ghavami can correct a deviated septum and enlarged turbinates or make other improvements to the nose's structures to improve breathing function.
When he is finished, he re-drapes the skin over the nose and stitches the incisions closed.
Rhinoplasty Recovery
Patients may have different degrees of swelling, bruising, bleeding, stuffiness, nose ache and a dull headache for several days after surgery. These side effects are temporary and quickly subside. Most patients take about a week off from work or school. Contact lenses can be worn immediately after surgery, but glasses may need to be taped to the forehead or propped up on the cheeks for up to four weeks. Dr. Ghavami can demonstrate taping and massage techniques to improve results.
As the swelling subsides, the results of the operation become visible. Swelling may reappear from time to time during the first year after the procedure (generally more noticeable in the morning). This is why Dr. Ghavami encourages patients to wait a year before judging their final rhinoplasty results. However, most of the overall shape of the new nose can be seen and judged around the three-month mark.
RHINOPLASTY FAQ
How do I discuss with Dr. Ghavami the results I am looking for?
It is very important to the doctor that he understands your vision for your desired nose. Together during consultation, the two of you will spend time discussing your ideal results. You will look at pictures of your current nose as well as pictures of nasal shapes you like, and decide how to improve it to best complement your facial balance. Dr. Ghavami will also work with you to make sure your nose matches your ethnic heritage. Final results depend on your nasal bone and cartilage structure, facial shape, skin thickness and age.
What are the risks of rhinoplasty?
When performed by an experienced surgeon, the risk of complications is very rare. Complications include infection, nosebleed or shifting of cartilage shape over time.
Do I need revision rhinoplasty?
If you are unhappy with a previous rhinoplasty operation, you may need revision (or secondary) rhinoplasty. You should wait at least a year for the results to stabilize before pursuing revision rhinoplasty. However, many candidates come earlier than that to get Dr. Ghavami's expert opinion so they know what to anticipate. Not every rhinoplasty surgeon accepts revision cases, but Dr. Ghavami does and is skilled in dealing with all nasal types; he has truly "seen it all." He has the skill and experience to correct the botched results for a more attractive nose (and better breathing function). Dr. Ghavami has seen noses operated on as many as six times. Do not lose hope. Dr. Ghavami will be very candid and open with you regarding what is realistically possible and he will NEVER badmouth another surgeon. If you go to a surgeon who is quick to speak badly about another, we recommend going elsewhere as signs of greed, jealousy and unprofessionalism like that are not good indicators. Keep in mind that some of the challenges of revision rhinoplasty are that there is usually less cartilage to work with, and there might be scarring or skin or tissue contraction. However, Dr. Ghavami can work around these obstacles to deliver beautiful and natural looking results.
Lastly, many of Dr. Ghavami's expert textbook chapters and articles are shown in our Publications section. Dr. Ghavami has also been featured in national media to discuss his advanced cosmetic surgery techniques.
Patient Example 1: Dorsal Hump & Bulbous Nasal Tip


THIS PATIENTS BONY AND CARTILAGE HUMP WAS TRIMMED DOWN, HER TIP WAS SHAPED AND THE BALANCE BETWEEN HER BRIDGE AND TIP WAS SMOOTHED OUT WHICH BROUGHT OUT HER OTHER BEAUTIFUL FACIAL FEATURES. NOTICE HOW HER EYES AND LIPS LOOK FULLER.
Patient Example 2: Tip Shaping, Elevation & Bridge Narrowing


AN EXAMPLE OF A PATIENT WITH ATTRACTIVE FEATURES WHO REQUIRED MAJOR TIP SHAPING AND ELEVATION AS WELL AS NARROWING OF HER BRIDGE AND HUMP. MANY WEBSITES DO NOT SHOW THE FRONT VIEW OF THEIR PATIENTS. WHILE MANY SURGEONS CAN REMOVE A HUMP, THE FINESSE INVOLVED IN NOSE SHAPING CAN ONLY BE TRULY JUDGED ON FRONT VIEW.
Patient Example 3: Reshaping & Bridge Narrowing

AN EXTREME MAKEOVER OF A MIDDLE EASTERN NOSE WITH POOR PRE-OP SHAPE AND NO CHARACTERISTIC SHADOWS, ANGLES, OR HIGHLIGHTS.
Patient Example 4: Major Tip Modifications & Multiple Cartilage Grafts

A VERY WIDE TIP AND LARGE NOSTRIL BASE. THIS TYPE OF ETHNIC NOSE REQUIRES UNDERSTANDING OF WHAT "ETHNICITY" IS AND HOW A NOSE CAN BE RE-SHAPED WITHOUT CHANGING A PERSON'S ETHNIC FEATURES. MAJOR TIP MODIFICATION WITH MULTIPLE CARTILAGE GRAFTS WAS NEEDED.
Patient Example 5: Wide Nose with Thick Skin

THIS PATIENT IS VERY DIFFERENT FROM THE FIRST EXAMPLE. SHE HAS THICK SKIN, POOR CARTILAGE FRAMEWORK AND WIDE NOSTRILS. HER NASAL BRIDGE DID NOT REQUIRE HUMP REMOVAL LIKE THE PREVIOUS EXAMPLE.
Patient Example 6: Lengthening, Reshaping, & Nostril Narrowing


AFRICAN AMERICAN RHINOPLASTY IN WHICH THE NOSE WAS LENGTHENED AND COMPLETELY RESHAPED, ALONG WITH NOSTRIL NARROWING, LOWERING AND RESHAPING. THE TIP WAS ALSO REFINED, PRODUCING THIS DRAMATIC, LIFE-CHANGING RESULT.
"The following contents were written by third parties for educational purposes. The offices of Dr. Ghavami were not involved in the writing or production of these contents."
Deciding to undergo rhinoplasty is no small matter, which is why it's important to choose a surgeon who is not only board certified by the American Board of Plastic Surgery or Board of Facial Plastic Surgery, but has extensive experience as well. In order to ensure results that are thoroughly satisfying, we recommend thoroughly researching your surgeon, checking credentials, asking questions, and critically look at "long-term" video and photographic results.
First of all, when you consult with the surgeon, find out the number of years they have been performing the procedure you seek. It may also be helpful to find out how many operations the surgeon has performed in total. Getting the feedback from the right source is critical when deciding on the rhinoplasty Beverly Hills surgeon because it will reduce the surgical risks and help you feel confident in the surgeon's ability to produce the results you desire.
It is also important to talk to your surgeon about what to realistically expect from the procedure. Sometimes people are not satisfied with their results because they want a nose shape that doesn't balance out the other facial features. A good cosmetic surgeon will have a strong sense of aesthetics and will be able to give you a nose that looks natural and beautiful. The cosmetic surgeon will also be able to advise you about the pros and cons of the surgery, the expected recovery time and the post-op care that needs to be taken.
Choosing the right doctor for your nose surgery will ensure you receive great post-op care, thereby giving you peace of mind as you recover from surgery.
FINDING A GREAT RHINOPLASTY DOCTOR IN BEVERLY HILLS
Cosmetic surgery is one of the most thriving industries today. With people becoming increasingly conscious about their looks, a large number of them are interested in enhancing their appearance via plastic surgery. Cosmetic nose surgery is among the most sought-after procedures in this category. If you are opting to have this procedure performed in the United States, there is no substitute for finding the right surgeon for nose surgery.
Though there are many surgeons practicing in the country, the ones located in Beverly Hills are generally most renowned for their high levels of skill and abilities. The following are a few points to keep in mind when you search for a surgeon who can provide the best results.
Choosing the right surgeon will require some research on your part, with regards to research and exploring your options. It is highly advisable to select a surgeon who has ample experience, a rich scholarly background and specializes in the plastic surgery procedure you seek. It is also recommended that you look at before and after photos of the surgeon's previous patients. By doing your research, asking questions, and exploring your options, you will be able to find the perfect surgeon for your rhinoplasty.
Why Dr. Ashkan Ghavami is a Great Choice
Dr. Ashkan Ghavami's approach to nose surgery places a premium on symmetry and harmony. Nose jobs look "done" when the alterations don't blend seamlessly with the rest of the patient's facial structure. Likewise, even a technically proficient rhinoplasty can suffer from "racial incongruity" which means a surgeon tries to sculpt the nose of an Asian, African-American, Middle Eastern, or Hispanic patient into some idealized "Caucasian nose" that supposedly defines the universal "standard of beauty." The result simply looks unnatural. That is why Dr. Ghavami believes it is so important to carefully preserve distinct ethnic features, even while enhancing the overall aesthetic of a patient's nose and correcting any health-related issues (such as a congenital defect or damage sustained from an injury). An "ethno-sensitive" approach to both primary and revision rhinoplasty is necessary to create a tailor-made and unique appearance, in contrast to one-size-fits-all, cookie-cutter approaches that invariably fail.
You may be a good candidate for rhinoplasty if you are 15 years of age or older, have a fully developed facial structure, are in general good health, are a non-smoker, and have realistic expectations and aspirations when it comes to results. If you have any questions or concerns about this very safe procedure, schedule a consultation.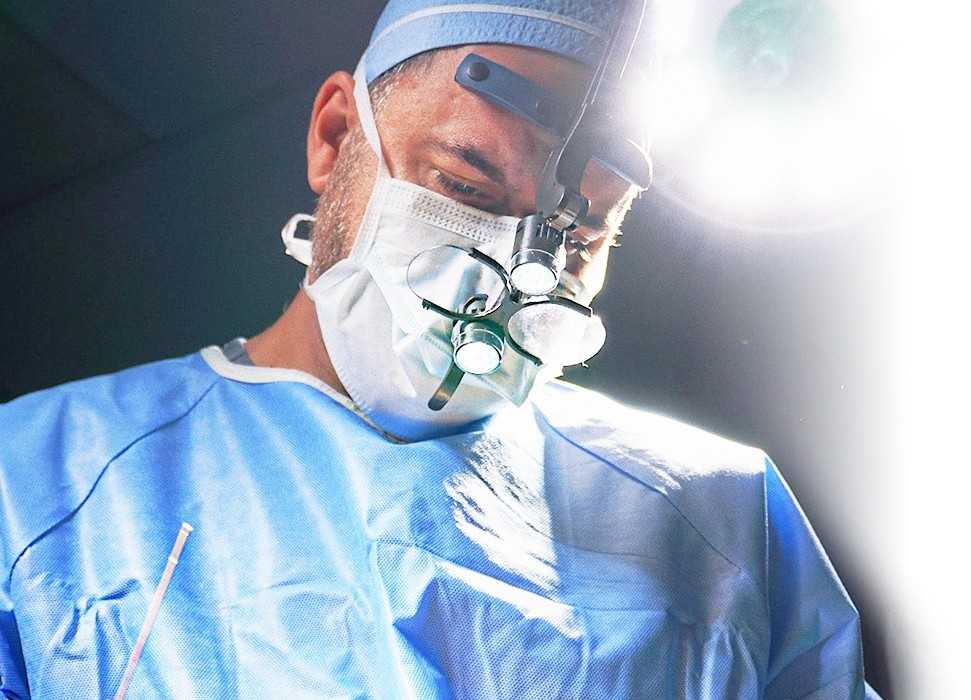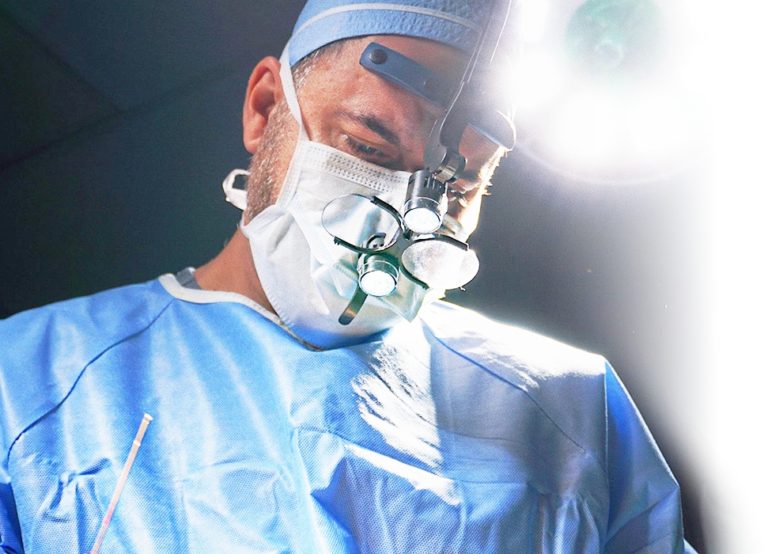 Renowned
Surgeon Scholar Innovator
Ashkan Ghavami, MD
Surgeon, Scholar, Innovator, Leader
Board-Certified Plastic Surgeon Dr. Ghavami is highly sought after by patients, professionals and colleagues alike to share his advanced surgical knowledge and techniques. He is routinely invited to lecture, contribute to educational textbooks and assist with scientific articles related to cosmetic surgery. Visit our "Publications" section to learn more about his vast experience.